Testimonials
STARTED TO FILL OUT AFTER 5 WEEKS
I have tried your product and i was a bit sceptical at first because nothing was happening in the first 1 month but now they are starting to fill out after 5 weeks. I was very flat chested after having 2 kids but i do recommend this product to my fiends for it is starting to work and fill out.
Anna V. NY. USA.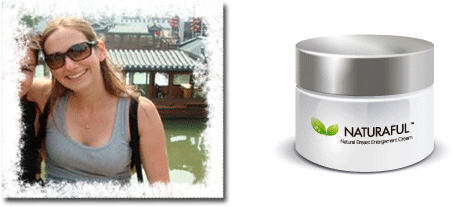 Authentic Testimonial. Results may vary
I ALREADY FEEL FULLER AND ROUNDER
I'm a skeptic, on everything. When I was searching online for any alternative to breast surgery, I came across the naturaful website. Curiously, I studied the product for a week. Reviews, testimonials, ingrediants, you name it! I figured I didn't have much to lose, so I purchased it! The first jar, which I'm not even c ompletely through yet has already given me so much hope in the way I can look. I've been using it for 2 and a half weeks and I already feel fuller and rounder and my fiancé is astounded! I went from an almost B cup to a full, filling, B cup already! This is amazing! Thank you naturaful! I'm going to be a customer for a very very VERY long time. I've recommended this product to so many of my girlfriends, and one of my guys. So far they love it too! This is miriacle cream right here. Thank you.
Bekah R. Washington, USA
Authentic Testimonial. Results may vary

I AM ALMOST A FULL 2 CUP SIZES LARGER
Upon trying Naturaful that a friend recommended, i have found it not only to changed my body, but also my confidence and pride, and overall my life. Being happier and more fullfilling of life i never new what i was missing,.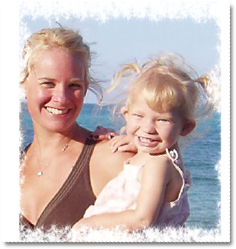 In the last 5 years i have had 2 beautiful children however my breasts changed me not only physically but personally, i wanted to hide. Since using Naturaful I am almost a full 2 cup sizes larger and I am now customer for life. Wonderful stuff!
Heather L.Australia.
Actual authentic photo of customer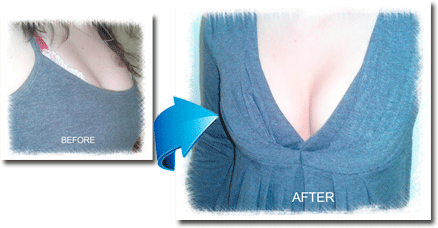 FROM FAIRLY FLAT CHEST TO ACTUALLY HAVING BOOBS
"I stumbled upon Naturaful while looking up reviews on other breast creams that was disappointingly full of chemicals and ingredients I have never heard of. Given the natural safe ingredients in Naturaful, I tried it out. Although skeptical at first on what this cream could do, I was amazed to see that in 7 weeksI have gone from a fairly flat chest to actually having boobs to put in my bikini this summer. I can not recommend this enough."

Mary B. Kona, Hawaii

Authentic Testimonial. Results may vary

see real video reviews here
BACK TO C CUP
After having a hysterectomy, my breast started losing in size. I went from being a size D cup to a size B. After using natraful, my breasts are now back to a C1/2 cup. I would highly recommend the use of Naturaful before planning on any surgery enhancements.
Amy M. Chicago, USA.
Authentic Testimonial.Results may vary
2 CUP SIZES ALREADY I HAVE BEEN SAVING
THIS TOP FORVER AND
NOW I CAN FINALLY WEAR IT
Before I tried Naturaful I was always self conscious and felt manly I was so close to getting implants until my sister got this product for me. I've been using it for 5 months now and I feel like I've grown 2 cup sizes already I have been saving this top forever and now I can finally wear it. I love Naturaful and recommend it to everyone! 
Authentic Testimonial. Results may vary
Nikki L. Phonenix, USA
Actual authentic photo of customer

MORE AUTHENTIC TESTIMONIALS
C TO D CUP WITH NATURAFUL

"When I found the website for Naturaful, I was skeptical but thought if this was a solution that didnt require surgery or pills, then it was worht a try, I began as a medium size C cup just 9 months ago. After 9 months of continuous use I am now wearing a D cup. After 6 months, my C cup bra were no longer comfortable, I needed a larger cup bra. i feel more shapely, my clothes fit the way I'd like the and as a result I feel better about myself I felt great about my decision to give Naturaful a try."

Sheryl S. Georgia, USA

"NOW I ACTUALLY HAVE CLEAVAGE"

"I used naturaful for 5 months and saw results after only 3 weeks. The results were amazing. Definitely fuller breasts, went up a cup size, and now I actually have a cleavage! I would recommend this product to anyone who is a skeptic, (like me). It will turn you into a believer. Thanks naturaful! "

Faith C. Manilla, Phillipines

NO SURGERY NEEDED.

"I was planning on having Breast augmentation, but the product is producing such great results, I am not having surgery...how cool is that!"

Brenda B. Ajax, Ontario

A FULL CUP SIZE IN 3 MONTHS

"Hi my name is Kristie I. I have been using Naturaful for the past three months. I have been very satisfied with your cream and have received the desired results I was looking for. I have gained a full cup size Thanks again for such a wonderful product."

Kristie I. Texas, USA

"MAKES ME LOOK AND FEEL GREAT"

"I love just love the product so much and it really makes me look and feel great"

Catelyn H. Dever, USA

34B to 36B IN 6 MONTHS

"Hi, good day to you. Im Elaine L. from Malaysia. I am started to use naturaful breast enlargement cream since March 2012 until now about 6mths,it is amazing and great to say I'm having nice breast shape from 34B increase to 36B".

Elaine L. Malaysia

A FULL CUP SIZE GROWTH

"I've seen a full cup. I lost a lot of weight and then lost my breasts because of that. So after using this they came back without me having to gain weight".

Nicole M. Santa Monica, USA

"WORKS LIKE MAGIC"

"It has worked magic! And I don't want anything bigger. Loved the product,  I went from a full A cup to a full B cup. ... thanks"

Claire C. Berlin, Germany

"RESULTS AFTER 2 MONTHS"

"I have never been fully satisfied with the size and shape of my breasts.  I always felt they were too small when I was a teenager.  However, after discovering Naturaful, I am beginning to see positive results after 2 months of use! Anyone who needs that extra ounce of confidence will definitely get it after trying this. Thanks Naturaful!"

Jenna B. Boston, USA
Secure and safe Transactions
Natural botanical ingredients
TRY NOW AND FIND OUT YOUR SUCCESS STORY